May 25, 2017
I will be working on Floridata over the holiday weekend. There shouldn't be any problems but if you encounter any weirdness just try again - any disruptions should be very short-lived. Have a happy Memorial Day holiday weekend, visit Floridata often and be good and grow! Jack
New Plant Profile
Meyer lilac (Syringa meyeri) is a rounded and compact little shrub getting up to 5 or 6 ft. The plants are often grown as "lollipops", the round shrub grafted onto a standard 3-4 ft high. The flowers are fragrant and appear around mid-spring (mid-May in my neighborhood). Read more about this weedy species that is found in USDA Zones 4-7.
More Lilacs
The common lilac (Syringa vulgaris) produces one of springtime's most uncommonly beautiful and fragrant flowers. It's been a garden favorite for centuries and dozens of cultivars are now available in an assortment of colors from white to blue to pink. In my Northern Kentucky neighborhood, this lilac species is the first of the lilac species to bloom (about mid-April), just before the Meyer lilac. Read more about this old fashioned favorite for Zones 4-7.
I saw my first Japanese lilac tree (Syringa reticulata) about 10 years ago while visiting Kentucky. The flowers are similar in appearance to those of the common lilac (Syringa vulgaris) only larger and with a less appealing fragrance. The Japanese lilac trees bloom in mid-spring just when the Meyer lilac is finishing its flowering period. Read more about the Japanese tree lilac USDA Zones 3-7.
Woodies In Bloom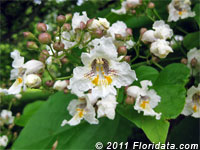 Our southern catalpa (Catalpa bignonioides) trees finished blooming a month ago here in Florida's Big Bend but the northern catalpa (Catalpa speciosa) trees were in full bloom last week back home in Kentucky. The flowers of the two species are similar but with the northern blossoms being more elongated. Click to download a large version (800x600) of the northern catalpa flowers for a closer look. Download a southern catalpa flower for comparison.
The mimosa (Albizia julibrissin) trees are blooming around this time of year. It's not the kind of tree I'd intentionally plant in my yard but I enjoy watching them bloom at this time of year - especially since the big one in my front yard suddenly died several years a go (they're subject to certain diseases in North Florida).
The pipestems (Agarista populifolia) around my house in North Florida are blooming now producing dangling rows of inverted urn-shaped flowers. This handsome evergreen shrub is a native of the southeastern United States where it inhabits shady places with moist soils. Happily it will succeed in dry, crappy sandy soils too which is another reason that I like to grow it.
Hollyhocks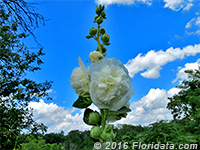 After several attempts, I finally grew my first hollyhock (Alcea rosea) flowers this summer! A couple of weeks ago this pretty white double-flowered hollyhock began producing these big beautiful blossoms along four feet of towering stem. The buds at the bottom of the stalk open first, with blooming proceeding upward over a several week period. Click to download a large (800x600 px) version of this image.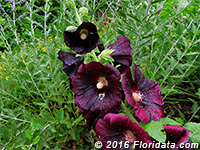 Right beside the white hollyhock (Alcea rosea), I planted a single-flowered black one. Actually the flowers are more dark purple than black but they are just opening they look almost black but whatever the color, it is very striking plant. Click to download a large (800x600 px) version. Here's a list of a few more perennial summer favorite flowers:
Late Spring Bloomers
The Virginia bluebell (Mertensia virginica) is an herbaceous perennial with erect branching stems and pretty little blue flowers. One of the North American spring ephemerals, Virginia bluebells blooms for a few weeks in spring, loses its leaves, goes dormant, and disappears by midsummer. Read more » about this showy springtime woodland wildflower that grows in USDA Zones 3 - 7.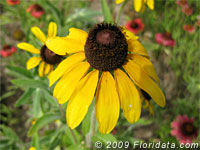 The handsome and easy-going black-eyed Susan (Rudbeckia hirta) wildflowers are beginning to bloom along the roadsides in the southeast. Local governments have sown wildflowers along roads and highways in many states where they look awesome and reduce the number of mowings needed. Click to download a large of version (800x600) of this image.
Flowering Plants of Hawaii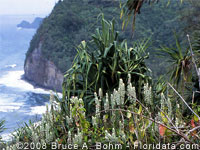 The Hawaiian Islands are home to an array of native plant species that has attracted the attention of botanists, naturalists, horticulturists and world travelers ever since Europeans first visited the islands near the end of the 18th century. Read more »
You'll find more links on our Articles and Resources page.
Summer Edibles
Some vegetables grow best in cool weather, others like it hot. Many of our favorite edibles are grown in summer like tomatoes and cucumbers. More edible species to grown in your summertime garden:
Welcome to our New Site!
All of our articles and resource pages can be accessed from the Articles and Resources link is in the Site Menu at the upper right hand corner of each page. Some of the pages in our archive will be temporarily unavailable until they are reformatted and re-posted here on the new site. Sorry for the inconvenience.