January 20, 2017
Although spring is still a couple of months away, it's not too soon to begin planning this season's gardening projects. Spend some time browsing the Plant Profiles in our Plant Encyclopedia and our Resources and Articles to inspire some great ideas. Please tell your friends about us and be good and grow. Jack
New Plant Profile
Our newest plant profile is of a pretty little deciduous shrub called mapleleaf viburnum (Viburnum acerifolium). It is native to eastern North America from southern Ontario and Quebec, south to northern Florida, and west to Wisconsin and eastern Texas where it inhabits the shady understory of hardwood forests. Read more » about the mapleleaf viburnum, used in informal hedges, woodland and wildlife gardens where it is hardy in USDA Zones 4 - 8.
The genus Viburnum, Sambucus and a few others have been re-assigned to the Adoxaceae family. We're currently updating our other Viburnum species profile as well.
Winter Blossoms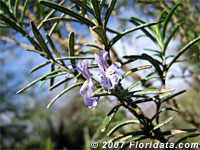 There's an old rosemary (Rosemarinus officinalis) bush in my yard down in North Florida. It doesn't seem bothered by frequent hard freezes and produces its largest flushes of flowers at this time of year. Click to download a large version (800x600) because rosemary looks as good on your desktop as it does in the garden. Read more »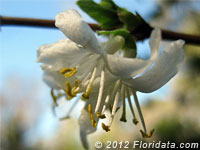 Unlike many of its relative species, Japanese (Lonicera japonica) and Chinese (Lonicera maackii) honeysuckles, the winter honeysuckle (Lonicera fragrantissima ) is not an aggressive grower. This shrubby species is well-behaved, non-invasive, fragrant and is blooming now in Steve's North Florida garden. There are hedges of it in my condo complex up in Northern Kentucky but it's not likely to bloom here until around early March. Until then, download a large version (800x600) to enjoy on your desktop. Read more »
Medicinal Plants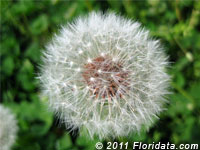 It's a weed and it's all over every one's lawn - but many will admit that the dandelion's (Taraxacum officinale) fluffy seed puffball is beautiful and fun to blow apart. Medicinally this plant, when made into tea, in a short time, will make you pee! Here are a few more interesting species that have medicinal properties:
Herbs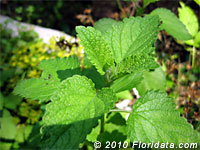 This herb has been grown for centuries and used by herbalist to cure ills and heal wounds. Lemon balm (Melissa officinalis) is also reported to "renew youth, strengthen the brain, relieve languishing nature and prevent baldness". I'm going to plant some because I feel a need to languish less. More herbs that may not renew youth but they do taste good:

Hotties 4 Full Sun
Summer snapdragon (Angelonia angustifolia) will survive heat and humidity and still bloom like crazy all summer long. Click to download a large of version (800x600)
Another newer offering that can beat the heat are the brilliantly colored calibrachoa hybrids, sometimes called seashore petunias (Calibrachoa X hybrida). These are perfect for hanging containers in sunny situations. More sun loving species:
Flowering Plants of Hawaii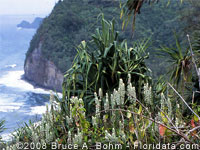 The Hawaiian Islands are home to an array of native plant species that has attracted the attention of botanists, naturalists, horticulturists and world travelers ever since Europeans first visited the islands near the end of the 18th century. Read more »
Welcome to our New Site!
All of our articles and resource pages can be accessed from the Articles and Resources link is in the Site Menu at the upper right hand corner of each page. Some of the pages in our archive will be temporarily unavailable until they are reformatted and re-posted here on the new site. Sorry for the inconvenience.