April 20, 2017
This year is the first time I've observed the (typically early-blooming) eastern redbud and the flowering dogwood trees in full flower at the same time. In fact, the weird weather pattern we experienced this year seems to have all the trees blooming at once, in the process producing pollen in prodigious portions. Ahhhhhh CHOO! Bless me and be good and grow. Jack
Flowering Trees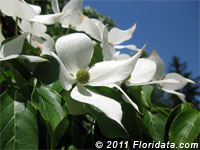 The Chinese dogwood (Cornus kousa), unlike its American cousin, the flowering dogwood (Cornus florida), blooms later in spring after the leaves have appeared. This variety is called 'Milky Way' and it is especially floriferous. Here's a list of a few other trees that bloom at this time of year that have especially showy flowers:
Salsa Garden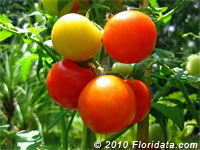 Stick a few tomato (Lycopersicon lycopersicum) plants in the ground (or in containers) and grow your own. Home grown vegetables taste better, save money and are good for the environment and your health! Plant a few of the vegetables in this list and you will enjoy your own fresh salsa all summer long:
Wet and Wild
The giant bulrush (Schoenoplectus californicus) or tule, as it is called in California, is a water-loving perennial like its close cousin papyrus (Cyperus papyrus). This bulrush grows across the southern United States from California to Florida and South Carolina. Native Americans made flour from its seeds and young bulrush shoots, as well as the rhizomes, were consumed both raw and cooked. Mmmmm, bulrushy. Here are a few more American native perennials that like wet soils and swampy conditions:
A Pair of Peonies
Moutan or tree peony (Paeonia suffruticosa) isn't really a tree but it is really a peony, related to the more familiar herbaceous Chinese or common peony (Paeonia lactiflora). The difference is that moutan is a deciduous shrub with sparsely branched woody stems that grows 5 to 10 feet in height.
The Junipers
The eastern red-cedar (Juniperus virginiana) has been one of my favorite trees since I was a kid in Kentucky where it was one of the few native evergreen species in our area. Click here for more on the eastern red-cedar, a great choice for bird and wildlife habitats in USDA Zones 3-9. Here's a list of links to other juniper species that are often used in landscapes:
Spring Flowering Bulbs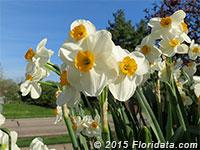 The paperwhite daffodils (Narcissus spp.) are in bloom here in the Cincinnati area at mid-spring. For more on spring flowering bulbs, read Ray's articles about The Daffodils and history of The Tulips then check out Floridata's profiles of these and other spring-blooming favorites:
Flowering Plants of Hawaii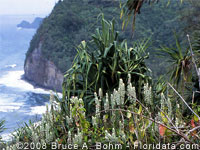 The Hawaiian Islands are home to an array of native plant species that has attracted the attention of botanists, naturalists, horticulturists and world travelers ever since Europeans first visited the islands near the end of the 18th century. Read more »
You'll find more links on our Articles and Resources page.
Welcome to our New Site!
All of our articles and resource pages can be accessed from the Articles and Resources link is in the Site Menu at the upper right hand corner of each page. Some of the pages in our archive will be temporarily unavailable until they are reformatted and re-posted here on the new site. Sorry for the inconvenience.